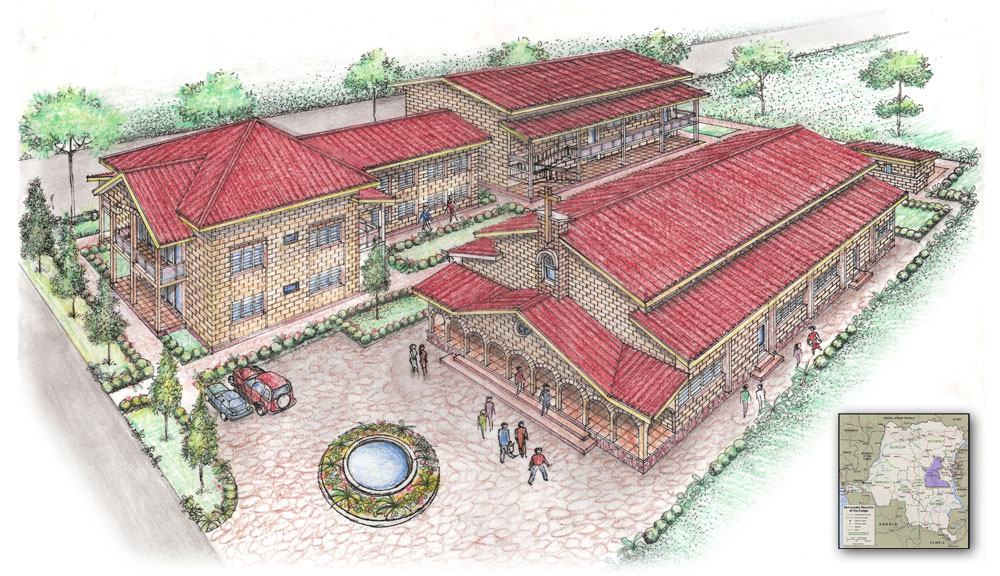 To accommodate the tremendous growth of this program we are now building Bible school campuses in strategic cities across the country, to provide each province with essential infrastructure for their training efforts. In most locations we are in the first phase of development, equipping each Bible school campus with an academic building that provides two classrooms, a library and administrative office space.
Bible School Development Plan
| Phase | Size | Description |
| --- | --- | --- |
| Phase 1 | 3864 sq ft | Academic Building |
| Phase 2 | 2970 sq ft | Dormitory |
| Phase 3 | 6844 sq ft | Chapel / Conference Center |
Kindu Bible School
The Kindu Bible School serves the training needs of the remote Maniema Province, with a population of 1.8 million. Because of the generous support of our partners in the states, we were able to finish the two-story "Phase 1" Academic Building (3,869 sq ft) in June 2012. It's two large classrooms, library and four administrative offices are already being used to capacity. Funds are currently being raised to build the Dormitory.
Lubumbashi Bible School
The Lubumbashi Bible School will serve a population of more than 10 million in a province the size of Spain. As construction progresses, we are excited about the potential of this new beachhead of training in DR Congo's second largest city. We are currently working on the 3,864 sq ft Academic Building which will provide two large classrooms, four offices and a library.
Mbandaka Bible School
In October 2006 we established a Bible School Extension in Mbandaka. From its inception it has been bursting at the seams. Now with eight successful years of training behind it and the production of more than 100 graduates, this Extension has proven itself to be a viable force and is fueling the fire of evangelism and church planting in the Equateur Province. Thanks to generous donations from our partners in the states, construction on the "Phase One" Academic Building was completed in 2009.
Mbuji-Mayi Bible School
Thanks to the generous giving of our partners in the states we were able to finish the Academic Building in Mbuji-Mayi this year! The classrooms, offices and library are now buzzing with activity and being used to capacity. The national church is rejoicing in the inauguration of this building as it is the first Assemblies of God leadership training facility ever to be built in the Kasaï-Oriental Province.
Kananga Bible School
The Kananga Bible School serves the training needs of the Kasaï-Occidental Province with a population of 5.9 million. This province is believed by many to be the stronghold of cultic activity in DR Congo. It is inundated with many false doctrines and sects. We believe that this Bible School has the potential to equip the church to lead this province out of its dark history and fulfill its great purpose.
Nioki Bible School
The Maï-Ndombe region of northern Bandundu has been known to be a stronghold of witchcraft for many years. The first Congolese missionaries who tried to bring the gospel into this area were either chased away or killed. However, since 1990, a handful of national Assemblies of God pastors have been working in the area and have been successful in planting many new churches. But in 2006 there were still only five trained Assemblies of God pastors working in all of northern Bandundu. The Nioki Bible School is helping to meet this need.